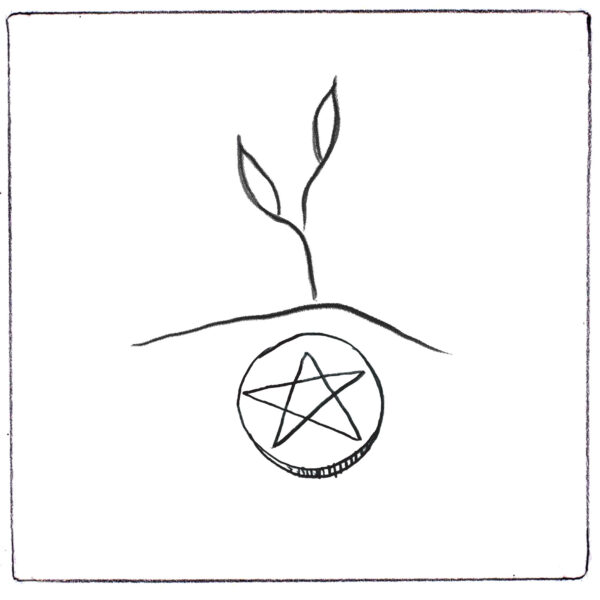 Description
Court of Pentacles: Finding Your Gifts Workshop
If you have trouble identifying your gifts, or knowing what to do with them, this is the right workshop for you!
We all have gifts to offer the world, offerings that the community needs. In nature, nothing is superfluous. It's easy to recognize the gifts of our friends. But, many of us struggle when trying to recognize our own. 
In this 4-week workshop, we'll cover how to identify, develop, and protect your gifts, and then how to offer them to the world — all through the lens of the Court of Pentacles in tarot!
Not only will you gain deeper insight into the Court Cards and develop your tarot practice — you'll also leave our workshop understanding that you have MANY gifts to offer the world. AND that not only is there a path towards clarity on what you have to offer, you'll also learn that bringing forth your offerings can be fun!
By the end of this workshop you will have identified one of your gifts, and put it out into the world in a practical, tangible, pentacles-power sort of way.
Reasons to take this workshop:
You know you want to offer something to the world, but you're not quite sure what.

You DO know what you want to offer, but you're not quite sure HOW.

You want to learn more about the tarot – specifically those pesky court cards!

You want to feel more joyful about moving forward and making choices in life.

You enjoy practicing magic and learning about yourself.
This workshop includes:
Weekly, easy, doable, downloadable PDF worksheets

Practical, achievable weekly activities you can do in less than an hour a week

Invocations, rituals, and spells galore!

Journal prompts, correspondences, and keywords to help you metabolize and make use of what you learn

MP3s of songs you can use anytime to access the spirit of the Court of Pentacles

And a 1.5 hour live call to go deeper into the work
Our live ritual is on Sunday, May 29th, 2022, at 11am PST. You will have access to your materials on Friday on 4/29. For Subscribers at the Jupiter or Astral, the workshop is included in the cost of membership.
FAQs
When does this workshop become available?
Starting April 29th, once you purchase the course, you'll automatically receive a PDF with links to the material.
Is this only for subscribers?
Anyone can join this workshop but subscribers to our coven at the Jupiter or Astral level receive this workshop, (and future workshops) with the cost of membership. Subscribers also receive access to our monthly tarot studio classes and more. To find out more about how to become a subscriber, CLICK HERE.
Do you have to be present for the live workshop?
Nope, after we hold the live call you will receive a downloadable package that you can access anytime.
How do I purchase this workshop?
You click the link at the top of the page, or CLICK HERE to become a subscriber.
*Illustration by Leah Hayes + Carolyn Pennypacker Riggs