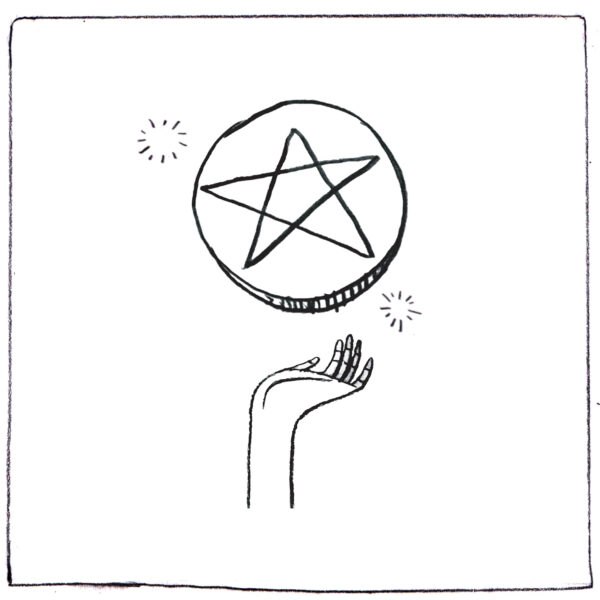 $77.00
A downloadable abundance magick workshop including, PDF, live call, chant, gestures, invocations, rituals and more.
Description
*This workshop is on sale for the run of our Court of Pentacles Season*
Abundance is already present.
Abundance and resources flow through the system. We give and we get.
But abundance isn't just about material wealth.
Abundance is all the things that help us rest and thrive.
Abundance grows from compost and decay, the things we're willing to let go of.
Abundance comes through what we are able to give, what we're able to do.
Abundance is already present, but remembering that can be a challenge in a culture that's modeled on scarcity.
We can have money in our bank account, but if we're tired, stressed, uncertain about the future or where our resources are coming from, and creatively depleted, we don't feel abundant.
True abundance includes rest, love, nourishment, inspiration, security, and pleasure. In the natural world, abundance comes through the flow of energy through our bodies into the biosphere and back again.
Abundance IS flow.
While this workshop will not instantly place a million dollars in your bank account, it WILL lay the groundwork for a new, and nourishing, relationship to abundance in your life.
Together in this workshop we will solve some "abundance riddles" related to:
work-life balance
feeling of enoughness
increasing our capacity to share and thrive
accessing flow and pleasure
confronting our fear of scarcity
trust that we can be in abundance
allow abundance to flow through and between us
This is not a "money-mindset" workshop. We are not here to spiritually bypass and pretend that all we have to do to be wealthy is have a positive attitude.
In this workshop we will establish a new relationship to abundance, inspired by the natural systems of the earth and the wisdom tradition of the tarot.
This workshop includes:
Invocation to call in abundance whenever you want or need to
An explanation of abundance magic with history, symbolism, and explanation of use
A beautiful PDF including special correspondences, FAQs, deities, a reference list and more
Journal Prompts
A tarot spread for abundance
A chant to bring you into the rhythms of abundance
A gestural dance to call in abundance
3 mini abundance rituals
1 expansive ritual done in the live workshop to call abundance into your life right now
An abundance meditation you can use whenever you need to get into that state of flow
FAQs
When does this workshop become available?
Immediately. As soon as your payment goes through, you will receive a link to the workshop – check your spam folders if you don't see it!
Is this only for subscribers?
Heck, no! Anyone can join this workshop. *Though there are quite a few benefits to subscribing…
Subscribers at the Jupiter or Astral level receive all *new* workshops (not previous workshops – so for example: subscribers to our coven who were current in the months of September and October received this workshop) with the cost of membership.
Subscribers also get to access to our monthly Tarot Studio classes and more. To find out more about how to become a subscriber, CLICK HERE.
How do I purchase this workshop?
You click the link at the top of the page.
How do I become a subscriber again?
CLICK HERE ! We welcome you!
*Illustration by Leah Hayes