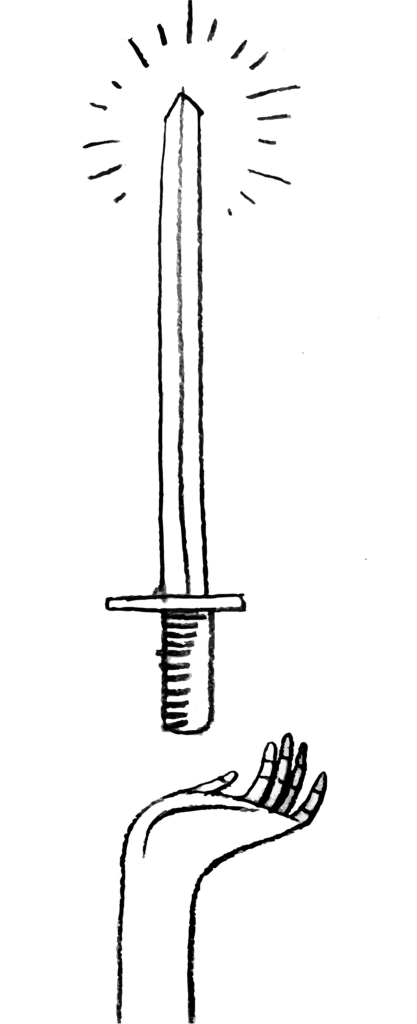 Way back in 2017, the seed of this podcast started to grow in a dingy little recording studio in Chinatown, Los Angeles. BTW host, Amanda Yates Garcia, the Oracle of Los Angeles, and author of Initiated: Memoir of a Witch, had been recording her show, The Oracle Hour, on the artist run anarchist radio station, KCHUNG.
Artist and composer, Carolyn Pennypacker Riggs loved to listen to (and appear on) her show, where she chatted with the witches of Los Angeles about magic, tarot, and all the most beautiful, enchanted things in the world.
One day, Carolyn was so inspired hearing Amanda's show that she emailed her and said, "Witch! If you want to have a podcast, I will produce it!"
Amanda agreed and so they began! Carolyn came up with the name for their first iteration of the show, Strange Magic, their first podcast, made with Amanda and another witchy co-host. It went for three seasons and then concluded when they completed the Major Arcana. You can still listen to it on the BTW RSS feed. (If you have questions about the end of that podcast, please read our statement here).
When that project ended, Amanda and Carolyn were excited to continue the project in a new form, and so they created: Between the Worlds.
They loved the name Between the Worlds because Amanda and Carolyn are not just witches. They also move through the worlds of art, literature, philosophy, mythology, psychology, critical theory, cinema, science, astrology, friendship, magic, regenerative culture, queer culture, pop culture, herb craft and more.
Although the show is mainly a tarot show, Carolyn and Amanda love to travel between all the worlds with their special guests, who range from award-winning poets, to luminary astrologers, college professors, and tarot powerhouses. They create magical songs for each episode, and provide what their listeners often call a "graduate level course" in tarot and witchcraft – in a fun and friendly way (no student loans necessary!).
The podcast is free for all to enjoy, though Weird Circle subscribers at the $21 level receive a new workshop every six to eight weeks; plus special added bonus goodies like meditations; songs; movement sequences; rituals; tarot spreads; and a forum to communicate with other subscribers to share tips, accomplishments, observations, and muse intelligently on all things witchy!
Past workshops have included: Candle Magic; a 10-Week Cups Workshop for emotion magic; an Emperor workshop to reclaim your power; a 10-Week Wands Workshop to cultivate creative inspiration; protection rites with the Lesser Banishing Ritual of the Pentagram; and more!
Thank you so much for being here. We love creating this podcast, we love magic and tarot, and we love you, dear listeners! Stay tuned and thanks for flying with us Between the Worlds!
Xoxo,
Amanda and Carolyn
Contact us – betweentheworldspodcast – at – gmail . com